So I'm still here,
still fighting.
In as quick a summary as I can manage, here's what's happened:
Managed two weeks out of hospital. Spent a week in a morphine haze in Jersey hospital where they then decided they were so worried about the fact that I was getting worse that I needed to go to Southampton again - cue air-ambulance and more days of not remembering what even happened, who I talked to. Couldn't eat for over a week, weight had already dropped to a lovely new low of 33kgs. Started becoming more aware that I was on the ward in Southampton. Started to eat a little but all conversations with doctors revolve around my weight. Request CT scan to see what exactly is going on in those lungs, told no because I had one only 6 weeks ago. Had chest xray and doctors decide actually CT would be useful. Come back with report that "they have never seen such shocking amounts of damage in such a short space of time". Saw CT. Spent afternoon in shock at how scarred and gnarly my puffers look. Oh, and had lung function resulting in 22% best FEV1. Doctors say that they don't know why but my cepacia has just run riot and destroyed my lungs faster and more efficiently than ever before. Changed onto new antibiotics - pullin' out the big guns! Likely to be long term. Decision made to have a Peg (feeding tube) inserted into my stomach as I just cant seem to eat enough - eating until I'm stuffed plus liquid calories in Ribena is not giving me even half my required calories. Days spent in agony - chest constantly on fire and legs at their worst - pain from osteopenia plus muscles seizing up from sitting so long, plus pain from immense swolleness due to infection using up my proteins. On constant morphine drip plus top up doses and other painkillers, but can't think from the pain 95% of the time. Mum here for cuddles but causing major problems with her work. I hate the burden that I am - I can't even lift myself into bed at the moment.
Enjoy the whinge?
:) sorry.
I've got some sweet pics (unfortunately only camera-phone quality) of my drug cocktail and swollen tellytubby cankles for you to look forward to.
I'm waking up pretty much like clockwork between 4am and 5am every morning and not getting back to sleep (damn the pain) so this is a new experience for me, being on the computer before lunchtime!
Comment if you feel so inclined and update me on you (or others?!) - I'd like to know everybody's news and how everyone is health-wise...will be making my way through the blogs but there is a LOT to catch up on!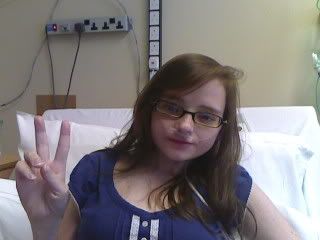 i'll leave you with another hospital webcam photo. love to all <3