So today was the day!
I now have my first tattoo. Might be kinda cliche, but it's what I wanted, and kinda needed, so there we go.
Pain - a LOT worse than I expected, though worth it. I was counting on the theory that it feels like "scratching a sunburn", well it was more like he was slowly cutting my foot in half with a razor blade :O
And well to be honest there are some things I'm not so happy about with it, it's slightly wonky in one place and now that I look at it, it seems obvious that when i asked him to put the words in a different order, swapping hope and courage, he just moved the words about but didnt actually change the design so it doesnt flow as well as it should, REALLY nto happy about that! Hopefully it's not too obvious though. And as I said, I'm putting it up to life experience. I'm happy I got it (and very grateful to Jordanna for being my hand to squeeze!)...
Photo time :D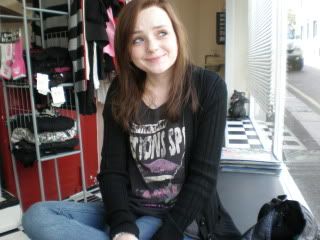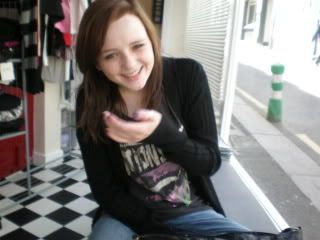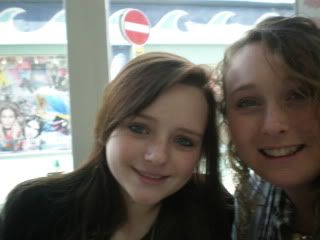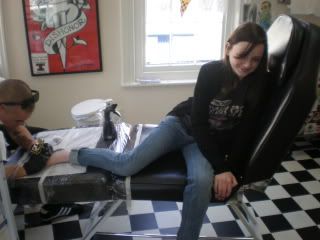 My personal favourite photo face!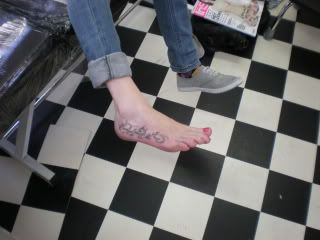 End result, tattoo by James at Skin Scene, Jersey. 1hour: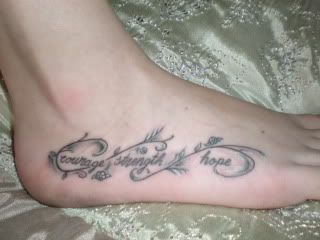 Everyone, including me, seems to be getting unwell at the moment, thinking of you all!
XX