I made my first attempt at making a ring from scratch at my jewellery class last night...
I started out with a shiny sheet of flat brass, and after sawing, heating, hammering, shaping, more sawing, soldering, more hammering to create texture, and MUCH filing of edges, i produced This: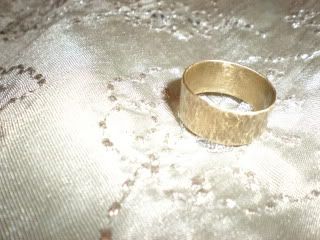 Be proud of me.
It's brass so if i wear it for any length of time my finger will likely go green but that practice means that next week i can buy some sterling silver sheet and go again :D excitement.
Also here's my photo for today... my lovely new Drip, Drip, Drop earring from Eclectic Eccentricity, that i managed to lose one of TWICE the first time i wore them! (The first loss ended in a find, the second time time i wasnt so lucky :( boo)
Ive also got in a little gold flower with a pearl in the middle which is one from my mummas youth, and a gem that my brother gave me, the first time he ever bought me a prezzy :)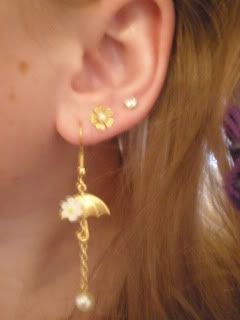 Mum wants me to get some IVs sorted tomorrow. FANTastic... just as I was beginning to hope i might get to go out a bit in the next week or so, for a couple of parties, finally not miss some! And my chest screws itself over again.
I just don't want to do it any more, I'm fed up of my life being a cycle of having IVs, waiting to get ill enough for IVs, having IVs, waiting to get ill enough for IVs...
This is not a life. I want more than just an existence please!