Thank you so much to those of you who commented on my last post. Sometimes it's just knowing that people are out there that can stop you from giving up and giving in completely, and you were all lovely.
Thank you.
I'm a little calmer today... at least until I let myself think.
Actually, this evening breathing is slightly easier, and I'm so happy about that. I'm still struggling with the thought that I might be stuck fighting to breathe for any longer...to be honest when I woke up this morning and realised that I was still here and still having trouble, I had some very dark thoughts indeed.
But the little things, as always, have helped: Dad arrived this morning bearing gifts of Ribena and dvds. I am now the proud owner of a platinum edition Disney DVD of
101 Dalmations
:) It's funny, plonk me in front of a Disney selection and 101 Dalmations would have been low on my list to pick, but I've watched it twice this afternoon and really enjoyed it- made me want to get a dalmatian doggy and call her Perdita.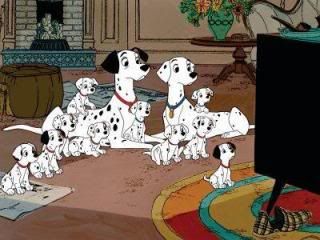 When I was watching it, the computer went a bit crazy...one of the many programs that popped up was a webcam program. Now, I hadn't even noticed that this laptop HAD a built-in webcam (observant, yes), or i would have taken a photo a few days ago to give you all a laugh at my hamster chops/moon face! But all the same, I thought I'd give you all a (not-so-)flattering peek into my world.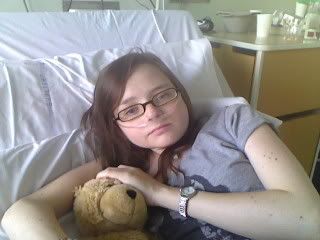 (the face is still slightly puffy)
My teddy is called
Honey
, he has been with me since one of my first visits to this hospital. We spotted an army of him in various sizes sitting in Smiths on the way in, and when I came round from my colonoscopy (fun!) he was sitting by my bed. Seven or eight years makes him quite a loyal friend i think, don't you? Especially considering all the tears he's dried! :)
Lastly a (hugely inadequate) thankyou to
Victoria
and
Clare
, both of whom I received packages from this week. Tori sent cupcakes and a cute soft toy dog, and Clare sent a box of special-ness that made me smile all day. It was super thoughtful. I'm so proud to call such lovely and generous people my friends.
A lot of love to you two! ♥