Just a quick heads up to my beady friends out there about two lovvvely giveaways about!
First of all the genius with glass that is Laura Sparling has cleared out her jar of top-quality lonelies and is offering up these beauties: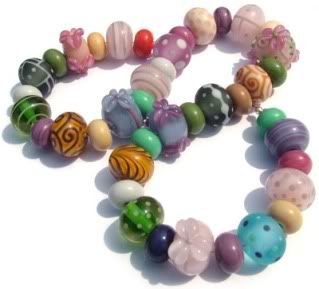 So to be in with a chance of winning get yourself over to her bloggy world at
Beads by Laura
, read the post and follow the rules! Ends 7pm Friday 4th June, UK time.
And also sharing the love is Anne at
Gardanne Glass Beads...
To celebrate her 300th sale (wahoo!) she is giving away a beautiful glass focal bead, as well as some others in glass and enamel, like these babies:
She'll be picking her winner at 9am this Friday (May 28th), though I think she is across the pond she hasn't mentioned a limit on where entrants can be from so fingers crossed.
Good Luck :)
XX